The Cool Kids: Who is the New Chic?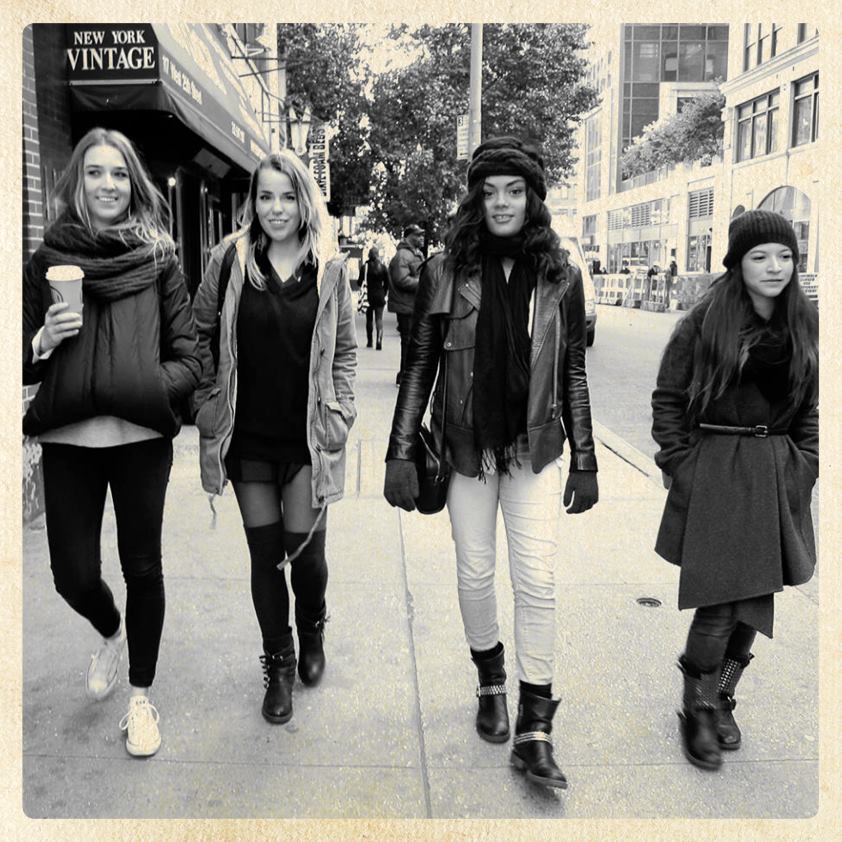 Since I started designing at the end of the 90's, marketers, retailers, trend setters and media have flocked to anything labeled 'Luxury.' It got so obsessive that the word "luxury" itself became diluted with words like 'luxe' and the true luxury sector scrambled to redefine what 'Luxury' meant, over and over again.
Simultaneously, the concept of 'luxury for less,' of discounted items, the best deals on great hotels, on travel, on furniture took on a new level of intensity.
Through all the hype, some of which I fully enjoyed, I realized that the truly chic lifestyle was not in the garishly luxurious, nor anything you can purchase at an unbelievable discount. It was something that was more subtle, understated, an undercurrent that needed to be addressed, passionately worked on and built.
When we finally launched the short term stay rental concept, MySuites.net in 2007, the idea of offering small but chic, stylish places to stay for a certain group set of travelers, was already 10 years in the works.

WHO IS THE NEW CHIC?
By the late 90's and early 2000's, I had left Italy, finished up my design studies in Paris and was looking to exchange apartments with other like-minded people. Style and my (limited) budget were top of mind.
At that time, that segment of the market between the low cost and the uber luxury categories grew and there was more room for those that belonged in the middle with an unique identity. Not the wannabe's of the aspiring luxury market but one that was creatively driven. Those that belonged in this segment were individuals who found a sort of self-fulfilled happiness in being surrounded by style achieved with reasonable efforts and savvy taste.
I always felt I was part of this new wave of this experience-loving, lifestyle group that I've come to call THE NEW CHIC.

THE MYSUITES CONCEPT
Following the launch of MySuites.net in NYC, I was thrilled that many shared and enjoyed my concept of "The Suite Life" and I met many creatives with unique stories and talents through this business and design venture.
We molded and launched a business model for the short term rentals and serviced apartments before Airbnb and One Fine Stay came to market. The concept combined the furnished apartments available for sale, and the experiential style and high touch service offered by boutique hotels. Our original idea was to share the lifestyle of The Suite Life with a New, Chic generation on the go.
Here are some of the New Chic that came to stay with us, who encapsulated living The Suite Life in NYC.

Blonde Banana in the Plaza Suite
Recently we had Anna Rice, the travel and style blogger behind the Blonde Banana Blog, over for a little staycation in our new Plaza Suite! We love to have bloggers visit us so we can share their experience in our suites and their recommendations for our guests. We also know plenty of our guests and fans enjoy following travel and style bloggers, so we've got Anna back for a quick interview to share what she's all about. To read on, click here: http://www.mysuites.net/blog/suite-life-blonde-banana-plaza-suite/

EMMA BATES World of Wanderlust
World traveler and food enthusiast Emma Bates of World of Wanderlust slept with MySuites at one of their West Village boutique hotels this winter. We had the pleasure of sitting down with her during the stay and have a conversation about where the best city for creatives is, how London (her current residence) and New York City differ, and where the best spots are in the neighborhood of the suite. To read on, click here: https://www.mysuitesandco.com/emma-bates-world-of-wanderlust/

KAYLA BARNES, Kayla Barnes PR in the Bowery Suite
Waking up on this beautiful Saturday morning in Nolita, one of Manhattan's hippest neighborhoods. Time to get brunch! I've chosen one of the best places for it, The Standard Hotel in the Meatpacking District. After some great and delicious food, I stopped by the SoHo House to hang out by the pool. It's already 2 pm, so it's time to leave! Next stop is LAVO for a 'Party Brunch' that is situated between Park Avenue and Madison Avenue. Nice place to be but I'm a bit in a hurry. Tonight I'm going to a House Party in the Upper East Side so I have to go back to my Bowery Suite to dress up and get ready….
To read on, click here: http://www.mysuites.net/blog/the-suite-life-kayla-barnes-in-the-bowery-suite/

"Los Angeles is a great place to live and work, but revisiting New York is always something we look forward to. Most recently, we stayed at the Hamilton Suite in the West Village and it was one of the best locations for a short (or extended) stay. The suite itself was bright, airy, and instantly felt like a home away from home. There's so much to see/do/eat within a few blocks of the suite. Across the street is Sockerbit, the Swedish candy store, and around the corner is Mary's Fish Camp, where we enjoyed shellfish bouillabaisse and roasted halibut. And while it didn't snow while we were there, Marc Jacobs provided us with an indoor digital snowstorm…To read on, click here: http://www.mysuites.net/blog/the-suite-life-scout-regalia-in-hamilton-suite/

VANITY FAIR ITALIA
"If you like boutique hotels but would like to feel at home, then MySuites is what you're looking for, with their boutique suites in the best locations in Manhattan, including the West Village, Meat Packing District and Chelsea. And if you like a piece in the suite, you can buy it at THE SHOP by MySuites" —Vanity Fair, Italy, January 2013. To read on, click here: http://www.mysuites.net/blog/mysuites-the-life-of-the-new-yorker-vanity-fair-italy/

MORE OFFERINGS TO THE NEW CHIC
After 10 years of proven success with MySuites, we decided to launch a sister company to address the real estate market. Instead of renting apartment suites for the New Chic, MySuites & Co. (M&Co) sells these fully gut renovated, redesigned and exquisitely furnished small apartments.
M&Co. apartments are in the most coveted locations in downtown NYC and we offer them to those who want the best of all worlds: An affordable piece of real estate in the best neighborhoods in town that are designed and styled to match your lifestyle mood.

FOR THE NEW CHIC HOTELIERS & INVESTORS
In line with our mission to expand our "Suite Life" offerings to this business- and creative-class that want to own their own hotels and hospitality venues, we recently launched The Suite Life of Sylvester (SLS) this year. SLS is dedicated to the design and development of small boutique hotels and family run hotels. So, if you want a cool, understated, local boutique or small hotel or restaurant / lounge, we are here to create the experience that you envision offering to the New Chic.